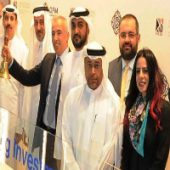 NAEEM Holding shares up 2% on the first day of trading on Dubai financial Market (DFM)
Dubai- March 25th 2018, Dubai Financial Market (DFM) today announced the listing of NAEEM Holding for Investment, trading commenced on the company's shares under the trading symbol (NAHO), the stock turnover exceeded 370,000 shares and the share price was up 2% by the end of the trading session.
Mr. Youssef El far- NAEEM Holding's Vice Chairman and CEO rang the market-opening bell in the presence of his Excellency Essa Kazim- Chairman of the DFM and Mr. Hussein Shobokshi, Chairman of NAEEM Holding as well as senior representatives from both sides. This listing brings in the total dually listed companies on DFM to 16 and the total number of overall listed companies to 67.
Commenting on this milestone, Youssef El far- NAEEM Holding vice chairman and CEO: "We are proud to be the first listed Egyptian company to be dually listed on DFM, we always believed in regional consolidation as the way forward, and tapping the DFM market complements our regional presence, increases the liquidity for our shares and maximizes our shareholders' value".
H.E. Essa Kazim's comment: "We are delighted to welcome the listing of NAEEM Holding as the first dual listing from Egypt on DFM. This significant step underlines the strong ties between the United Arab Emirates and the Arab Republic of Egypt in general and the collaboration between DFM and both the Egyptian Exchange (EGX) and Misr for Central Clearing in particular. Building on what has been achieved, we believe that there is a sizeable opportunity to further strengthen this relationship in order to diversify opportunities for investors and create value for issuers."
Mr. Hussein Shobokshi said: "As part of the management's continuous endeavors to place NAEEM Holding among the top regional financial investment companies operating in the field of financial activities, and as part of NAEEM's strategy to expand its clientele and shareholders' base, the company has selected the United Arab Emirates for dual listing and trading of its shares on Dubai Financial Market (DFM). On behalf of NAEEM Holding, Mr. Youssef El far and I would like to extend our gratitude to the teams that made it possible for NAEEM to be here today, namely Dubai Financial Market (DFM), Securities & commodities authority (SCA) from the UAE side and Egyptian Stock Exchange (EGX), Financial Regulatory Authority (FRA) and Misr for Central Clearing Depositary and Registry (MCDR) from the Egyptian side."