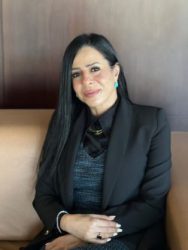 NAEEM Group deputy CEO, Omnia Kelig has been selected amongst the Forbes Middle East most powerful businesswomen for 2023.
Omnia is the Group Deputy Chief Executive Officer as well as Chief Investment Officer of NAEEM Holding. She has investment banking and private equity experience and a thorough knowledge of the conduct of both in the MENA region for the past 19 years. Prior to joining NAEEM, Omnia was a founder and the Managing Director of Viveris Mashrek,a subsidiary of Viveris Management (France), a private equity company with AUMs in excess of USD 4Bn. Prior, Omnia was the Director and Partner at Haykala Investment Managers and was the Co- Head of the Investment Banking at Barclays Bank Egypt.
Omnia holds a Bachelor's degree, with a double major in business and economics, from the American University in Cairo and is a CFA charter holder. She holds an MBA from London Business School (2019).