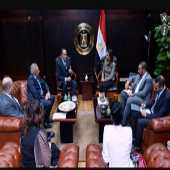 NAEEM Holding team, Chairman-Hussein Shobokshi, Chief Executive Officer-Youssef Elfar, Chief Investment Officer-Omnia Kelig and Managing Director Exchange Traded Funds (ETF's)- Alyaa Gomaa, met today with the Minister of Investment and International Cooperation, Sahar Nassr to discuss the current investment climate in Egypt.
The meeting covered investment opportunities in national projects, namely the new administrative capital and Suez Canal projects. The minister highlighted the government's current investments plan including new airports, potential projects in the industrial sector as well as pipeline investments in the free zones.
The Chairman added that NAEEM holding has received EFSA's approval on the prospectus of the first Real Estate Investment Fund in Egypt (REIT). The fund will be managed by NAEEM for Investment Fund Management, targeting EGP 1 billion as first tranche of investments.
The CEO, Youssef Elfar reassured the minister on NAEEM's consistent support throughout the years, NAEEM was a main sponsor in EEDC conference held in Sharm El sheikh in March 2015 as well as a key sponsor in Suez Canal conference held on the same year.