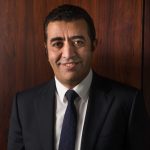 Khaled Rabei
Chairman of NAEEM Brokerage Egypt
Khaled joined Nile Investment in 1997 as part of the brokerage operations' team. He then headed market operations then became Managing Director in 2003. Khaled then lead the company to become one of the top ten brokerage firms in Egypt ranked by transactions size. After NAEEM Holding's acquisition of Nile Investment, he became board member of NAEEM
Brokerage and Arabia Online. Shortly after, he moved to Saudi Arabia as a regional director capitalizing on his expertise on the retail side and managing high net-worth clients. In his new role, Khaled focused on business development and strategic relationship management. He has been influential to the development and integration of the brokerage operations of the region. With over 20 years of solid experience in the equity markets, Khaled moved back to Egypt in 2015 as Chairman for NAEEM Brokerage.
Tarek Abaza
CEO NAEEM Brokerage Egypt
Tarek is the Chief Executive Officer, NAEEM Brokerage Egypt. Prior to that, he was the Executive Director for Local institutions, High net-worth and GCC at NAEEM Brokerage Egypt, with a successful 18 years track record in equity sales and trading. He started his career as an equity trader, and then became in charge of establishing and managing relationships with over 100 top tier local and regional financial banks and funds. Tarek holds a Bachelors of Commerce from the University of Alexandria in 1997. He is a key team member of the NAEEM success story.